Miniature golf has gone in and out of style more times than blue and orange plaid golf pants.
If you weren't playing goofy golf in the 1920's and 50's, you were as uncool as a square golf ball. Other years, people would have rather been hit on the head with a putter than caught at a mini-golf course.
Today, miniature golf is back.
Where else can you hit a golf ball into a crocodile's stomach and not get eaten yourself?. Or enter an eerie cave and not worry about attacks from humongous snakes?
Nowhere else, and that's part of the easy to learn sport's fun.
"Mini-golf has themes that keep anyone from age 8 to 80 interested," says 16 year old putting fan Kevin Carlyle, an Eagle Scout with Troop 374 in Liberty, Mo.
Those themes are becoming more realistic every day. Course owners practically have to feed the computerized animals and water the artificial turf!
Another World
Ever wanted to vacation in the Australian outback? Explore a haunted cemetery? How about becoming a part of a movie?
Builders of miniature golf courses think you have. That's why "theming," where each hole relates to the subject of the entire course, has become the way the ball bounces.
Take Fantasia Gardens at Walt Disney World in Orlando, Fla. One hole has an electronic mushroom popping out of it. Another: musical notes you have to maneuver around, just like the crazy world in the classic movie "Fantasia."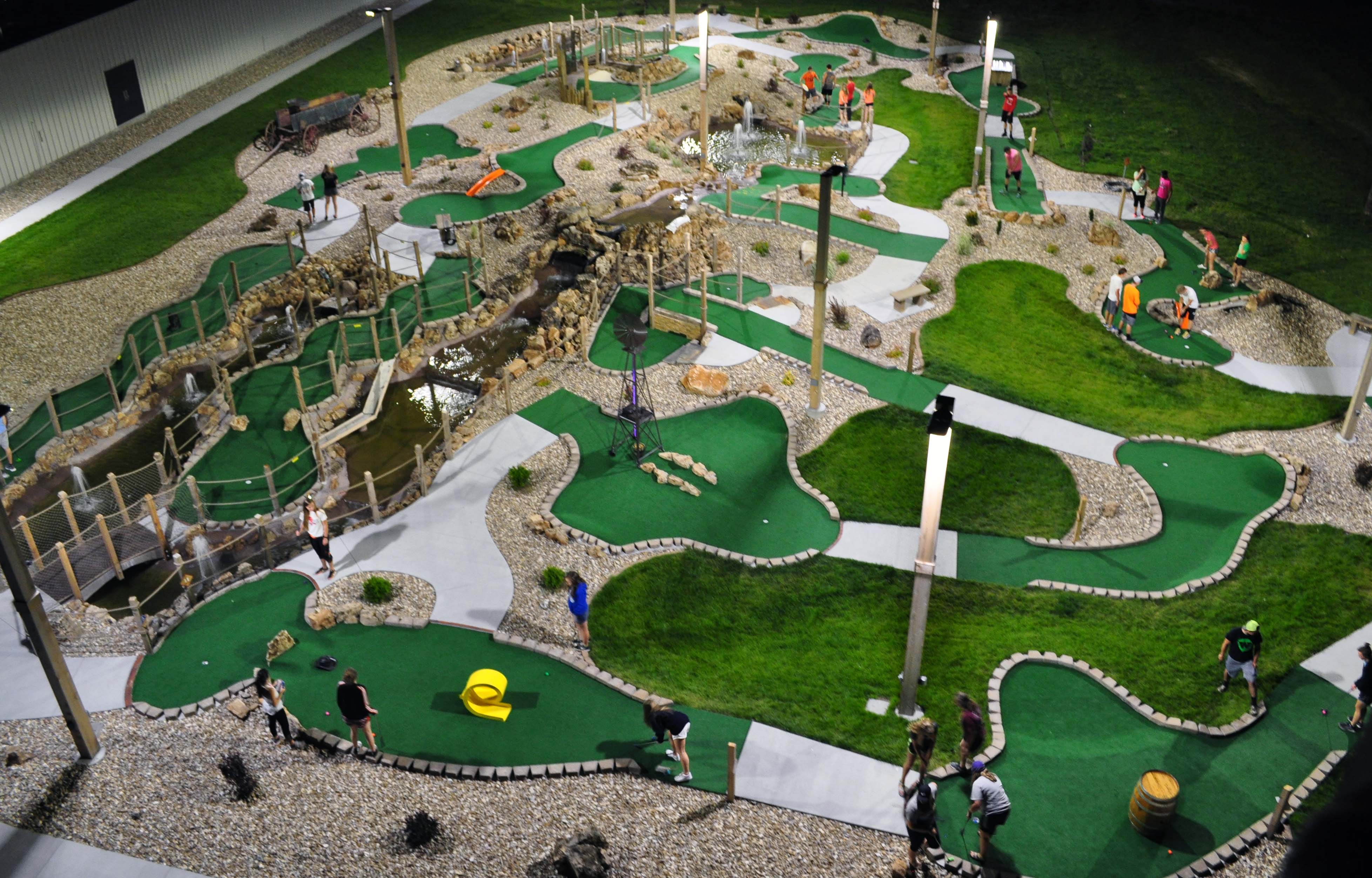 Then there's Boomer's Family Entertainment Center in Boca Raton, Fla. The creaky Australian mine shafts and cave paintings take you on a goofy golf walk about Down Under.
At one indoor course near Chicago, Ill., golfers putt their balls around headstones and coffins with spooky background music. (Did we mention the course is in the basement of a funeral parlor?)
Watch Out for That Dragon!
Materials like fiberglass foam allow builders to create courses with monster size obstacles and props. At Florida's Congo Rivers, a gigantic plane has "crashed" into a "jungle." A course in Myrtle Beach, S.C., features a bigger than bigger than life octopus.
And thanks to computers and other electronic gadgets, props and obstacles don't just stand quietly on the course; they're part of the game. A train comes out of a tunnel at Outer Limits in Scottsdale, Ariz. A dragon breathes smoke and fire in Myrtle Beach. And at Adventure Golf in Westminster, Colo., a ship's cannon fires a cannonball into the water.
Keep the Ball Rolling
Miniature golf is not only more fun now, it's more challenging. Curves, angles and small hills in the concrete base test a putter's skill.
"It can be challenging, especially for beginners," says 11 year old Justin Hamilton of Troop 13, Belpre, Ohio.
Even the turf is designed to make courses more interesting. A lot of carpets is now filled with sand. That adds challenging slopes and unevenness to the putting area.
"On a lot of the new courses, players need more skill," says Steve Hix, executive director of the Miniature Golf Association of the United States. "It's more of a real golf feel."
Other experts say challenging courses may soon replace themed courses. Builders are designing holes that emphasize skill and challenge over wackiness.
So take your pick: Goofy or challenging, it's all good fun.
Here are his tips for making putts, whether on the miniature-golf turf at a real golf course:
* Before you get into position, figure out how you want to approach the hole. Check out the angles and obstacles.
* Stand with your feet about shoulder width apart, with your feet close to the ball.
* Point the index finger of your bottom hand straight down the shaft of the putter for more control.
* Keep your head down, looking straight at the ball. If you're looking at the hole, you won't get a smooth stroke.
* Holes-in-one are great but hard to make. Just try to get your first shot close. Derek tries to put his first shot a foot past the hole.